The All-New 2017 Golf Alltrack
January 19 2018, Owen Sound Volkswagen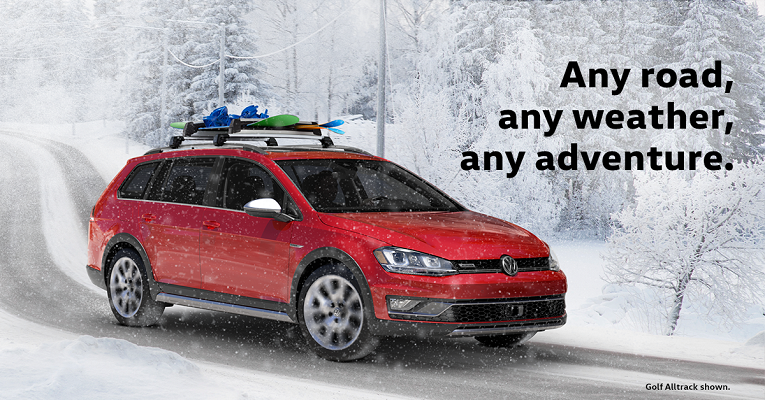 It is with great pleasure that Owen Sound Volkswagen once again shares some tremendous news concerning one of our newest additions to the Volkswagen brand!
In December, the 2017 Golf SportWagen Alltrack was named by the AJAC as their Best New Large Car. Along with the Alltrack, category finalists included the Chevrolet Malibu Hybrid and the Kia Optima HEV.
With impressive cargo space, sporty performance, and extra ground clearance with an "Off Road" driving mode that optimizes traction on uneven surfaces. A perfect blend of versatility and drivability. All for a surprising price.
As our road conditions continue to change, we need a vehicle equipped to handle our drastic weather changes. Volkswagen's 4MOTION all-wheel drive system drives power directly to the wheels that need it most, resulting in better grip and smoother handling. You can enjoy your drive and say goodbye to slipping on the road. 4MOTION is an all-wheel drive system from Volkswagen. 4MOTION gives you great grip on the road, come rain, wind, or snow. However treacherous the road surface, you get a sure-footed car with huge levels of traction.
Sometimes you like to drive in the fast lane. And sometimes you like to drive with no lanes. That's just the way it is when you're a born explorer. That was the inspiration behind the creation of the 2017 Golf Alltrack. It's ready to discover new places and go off the beaten track with standard 4MOTION® All-Wheel Drive. It's also ready to show off its rugged good looks just cruising about town. With generous cargo space, sporty performance, and off-road-ready attributes, it truly is the perfect blend of versatility and driveability – ideal when you've got the heart of an explorer. Discover the go-anywhere vehicle that comes loaded with features – from tech to safety to capability.
Features of the 2017 Golf Alltrack
Standard 4Motion All Wheel Drive
Under normal driving conditions, almost 100% of driving torque is sent to the front axle to save fuel. If road conditions change, the system calculates the optimal drive torque for the rear axle and shifts power accordingly. It ensures optimum traction on most surfaces even in adverse weather conditions.
Alltrack Raised Suspension
The 2017 Golf Alltrack has a raised chassis, giving it additional ground clearance over a standard Golf. This means you can explore more adventurous roads with confidence.
KESSY Keyless Entry with Push-Start Button
Keep your keys in your pocket and unlock your door by just pulling on the handle. Inside, just push the start button and you're ready to go. It's super convenient, and ultra modern.
Available Adaptive Cruise Control (ACC)
With ACC engaged, your speed is automatically regulated if the vehicle ahead is moving slower. You don't have to touch the gas or brake pedals. You can also specify the distance between you and the car ahead.
Available Lane Assist
The system senses if your car is drifting out of your driving lane and warns you by gently counter-steering the car back in line.
Available Light Assist
This is a very convenient feature when you are driving outside of the city and are using the high beams. The system can automatically turn off the high beams temporarily when there is a vehicle ahead of you in your lane or coming toward you in the oncoming lane.